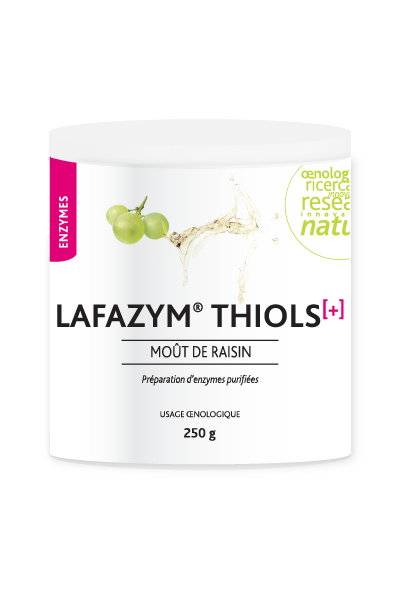 LAFAZYM® THIOLS [+]
Preparation of pectolytic enzymes with secondary activities designed to reveal the aromatic precursors of thiol-rich grape varieties.
LAFAZYM® THIOLS[+] in synergy with a yeast characteristic of the revelation of thiols will enhance the aromatic profile of wines.
LAFAZYM® THIOLS[+]  works in complementary to cold stabulation for an aromatic gain.
LAFAZYM® THIOLS[+] can be used on a wide variety of whites : Sauvignon, Colombard, Mansengs, Muscadet, Melon, Gewurztraminer, Scheurebe… as well as red varieties in particular for the production of rosé of Grenache, Syrah, Merlot, Cabernet, Mourvèdre, Cinsault…
LAFAZYM® THIOLS[+] used alone will not make up for the strain effect of high thiol producing yeast strains. To optimise the aromatic impact we recommend using ZYMAFLORE® X5, ZYMAFLORE® DELTA or ZYMAFLORE® VL3.
LAFAZYM® THIOLS[+] acts in synergy with yeast nutrition as well as aroma protection tools to optimise wines thiol potential.
Product data sheet & safety data sheet
Additional content
For many years, LAFFORT® has been taking part in research on the optimisation of aromatic expression and since 2013, specific work on the use of enzyme preparations for grape varieties with volatile thiol characters. The objective was to better understand the biotransformation mechanisms of thiols by yeasts, in order to select an optimised enzyme preparation for bringing out aromas in synergy with the yeast.
Multiproduct download: select as many documents as you wish during your browsing, your basket is saved until its downloaded.