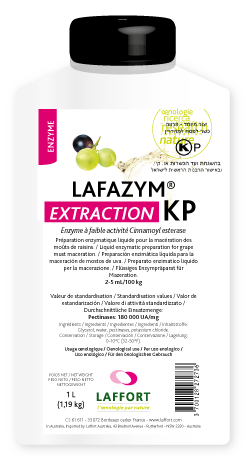 LAFAZYM® EXTRACTION KP
Liquid maceration enzyme for red and white grape musts.
LAFAZYM® EXTRACTION KP is a liquid pectinolytic enzyme preparation developed for the maceration of grape skins.
Increases the yield of free-run juice and wine.
Favours the release of benefical aroma and aroma precursors as well as structure compounds.
Allows to reduce mechanical actions.
Eases juice and wine clarification.
Free of any activity detrimental to wine aroma and freshness (FCE).
Multiproduct download: select as many documents as you wish during your browsing, your basket is saved until its downloaded.