Back
For many years, LAFFORT® has been taking part in research on the optimisation of aromatic expression and since 2013, specific work on the use of enzyme preparations for grape varieties with volatile thiol characters. The objective was to better understand the biotransformation mechanisms of thiols by yeasts, in order to select an optimised enzyme preparation for bringing out aromas in synergy with the yeast.
LAFAZYM® THIOLS[+] & LAFAZYM® AROM
MÉCANISMES DE BIOTRANSFORMATION DES PRÉCURSEURS DES THIOLS PAR LA LEVURE

AUGMENTATION DE LA BIOTRANSFORMATION DES THIOLS VOLATILS (3SH ET A3SH) PAR L'AJOUT DE PRÉPARATIONS ENZYMATIQUES
Comment optimiser la biotransformation des thiols pendant la fermentation alcoolique ?
• En utilisant une levure ayant des capacités de libération et de conversion des thiols volatils : ZYMAFLORE® X5, DELTA et VL3.
• En ajoutant une préparation enzymatique capable de favoriser la libération des thiols par la levure : LAFAZYM® THIOL[+].
PHASES PRÉ-FERMENTAIRE ET FERMENTAIRE
LAFAZYM® THIOL[+]
Spécifique de la révélation aromatique des cépages thiolés.
• Préparation microgranulée d'enzymes pectolytiques à activités secondaires.
• Agit en synergie avec les levures pour la révélation des thiols volatils.
• S'emploie sur moût et jusqu'au 1er tiers de la fermentation alcoolique pour une augmentation du potentiel aromatique des vins.
Dosage : 3 – 6 g/hL.
PHASE ÉLEVAGE
LAFAZYM® AROM
Spécifique des vins aromatiques issus de cépages de type Muscat, Riesling, Gewürztraminer, Chenin, Grenache, Syrah…
• Préparation microgranulée d'enzymes pectolytiques et ß-glucosidases.
• Augmente l'intensité aromatique des vins issus des cépages à précurseurs glycosylés de type terpéniques et norisoprénoïdes.
Dosage : 2 – 4 g/hL.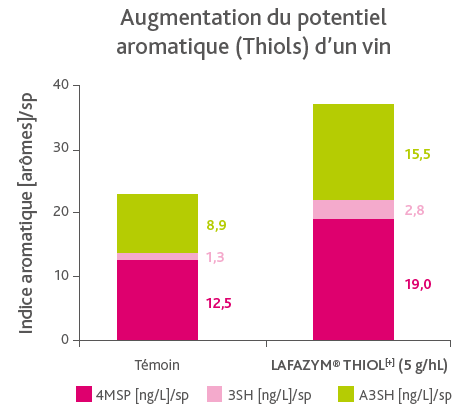 For more information on LAFFORT enzymes for more aromatic wines
LAFAZYM® THIOLS[+]
Preparation of pectolytic enzymes with secondary activities designed to reveal the aromatic precursors of thiol-rich grape varieties.
More information about the product
LAFAZYM® AROM
ß-glucosidase and pectinase preparation for revealing terpenic varietal aromas from their precursors during the production of aromatic white wines.
More information about the product
Multiproduct download: select as many documents as you wish during your browsing, your basket is saved until its downloaded.